If you have been in the website business for long enough, you might already be aware of the fact that WordPress is one the best content management system available. This is for a bunch of reasons among which some that need serious lauding include its ease of use, ultra-functionality, flexibility and above all the ability to change radically with just a few clicks by installing a theme. There are a lot of themes available for WordPress that allow you to drastically change the way you manage your content, interact with your website and also the way your website looks and feels.
Installing and using a theme is the easy part, the hard part is to find a theme that suits your website, and that effectively takes care of all the things you want from your website, irrespective of the niche you wish to use it for. There are two main ways to go about it, you can either buy the premium themes, or you could dip your toes in a free version if you are running on a tight budget or are just new to the business. Here is an article on How Technology can help your Business to Grow.
Fortunately, there are a bunch of Free WordPress themes available in the market that are so filled with features and functions that they even give the premium ones a run for their money.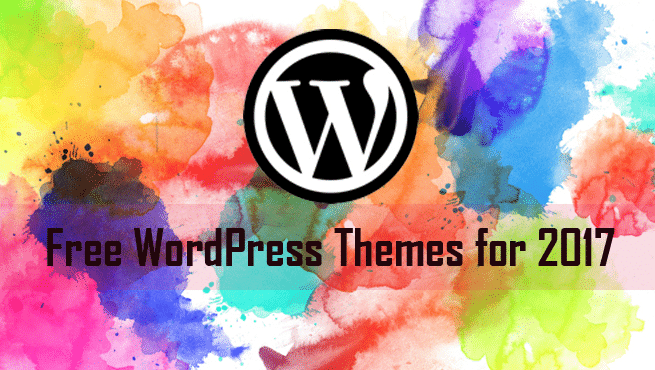 The only problem though is that there are just so many of free WordPress themes that promise do so much without actually delivering on the made promises. We have tried to eliminate just that by providing you with a comprehensive list of only the 25 Best Free WordPress Themes for blogs in 2017, one of which, we are sure you will find great enough to glorify your website this year.
In this post, we have collected such themes with an extra focus on themes that have the best features of the past with an extra elegant touch of 2017 to make them futuristic and worth your time and effort.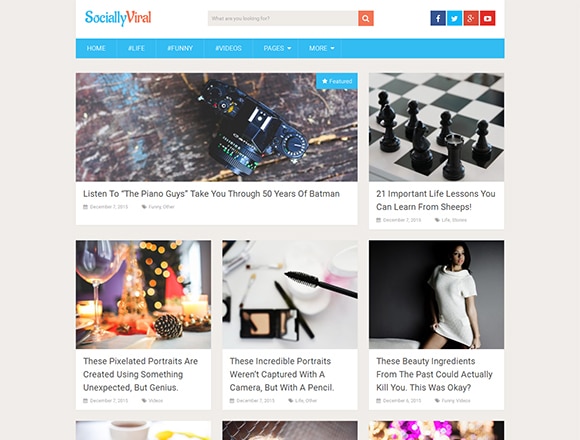 Over a past few couple of years, the online traffic market has shifted a lot from search engines to social media and SociallyViral helps you reap the benefits of this very trend. It does so with the help of its engaging, fast and most importantly viral traffic boosting capabilities. The theme is inundated with features that will help you increase social sharing by allowing you to get top traffic from top social media websites without actually compromising on the search engine rankings.
GridBlog promises to give you access to features that you would otherwise usually find on a premium theme. An example of such features includes amazing features, awesome settings, and deep customization options. On top of all that the theme is beautiful, modern and is based on a highly unique grid-based layout that allows you to put more of your content in one place, so your visitors can access more of what you are offering.
The best part of this theme apart from its sheer simplicity and bare minimalism is its Shopify integration that allows your visitors to quickly make a buying decision. The theme also has a subtle texture and suitable elements that make it an equally great option for a regular blog or even a static page.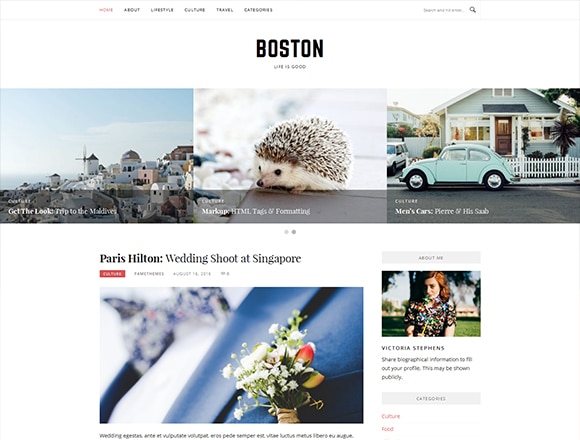 Boston theme has been designed to help you share your thoughts or publish your latest findings easily with the rest of the world, thanks to its elegant design and impeccable publishing tools.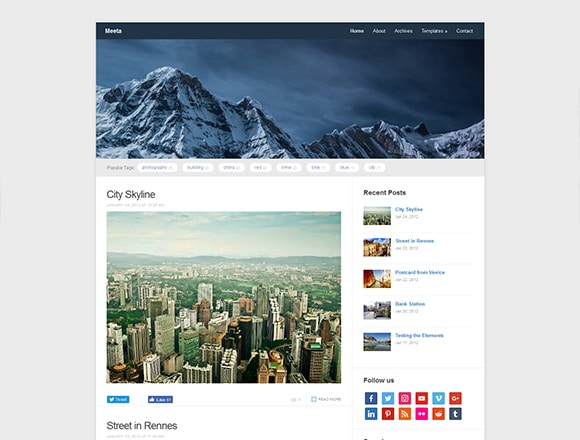 It is a completely free theme that manages to pull off features that even the premium one have a hard time with. The theme is very simple to use but is sophisticated enough regarding design, functional elements and custom templates that make it unique and pleasing to look at.
The Point is a theme that will sure help you put your point across with its minimal layout that puts the focus right where it should be, that is, your content. The theme is fluidic responsive, flexible and designed in a way that makes it great for almost any type of website. The best part though is its advanced options panel, multiple site layouts, backgrounds and color schemes as well as the ability to control specific features of the theme.
A theme that was designed exclusively for personal blogs and has all the features that make it a great option for this very purpose. The theme has been efficiently stripped down of any unnecessary clutter without compromising on the essential elements to put the focus on your content more so you can concentrate on writing without having to worry about the rest.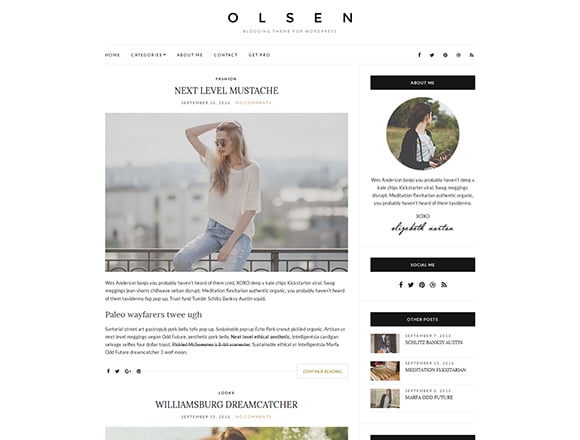 Olsen is a simple solution for fashion and lifestyle bloggers and is equipped with all the features to help you create a lasting impression on your readers. The best part though is that if you like the theme so much, you can always choose to go pro on payment of a nominal fee.
A fully responsive theme that comes with a bunch of features to help you weave your website just the way you always wanted. Among the various things, you could do with theme some that need special limelight include the ability to customize almost everything from the options panel and the custom widgets that make your website look that much more unique.
10. Mallow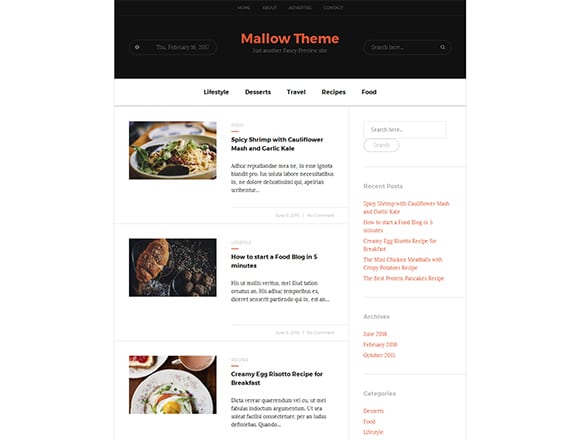 Mallow provides a blank canvas on which avid and creative writers can jot down their thought without having to worry about all the unnecessary technicalities and clutter.
Details | Demo
iTheme2, as is quite suggestive by its name, is a theme that was designed keeping in mind all the Apple ingenuity which is exactly what makes it a great option for technology and Mac related blogs. The theme also comes packed with media queries with the help of which you can target different displays such as desktop, notebook, iPhone, iPad and other mobile devices.
If building a strong online presence for your strong business is on your mind then Astrid has got you covered. The theme is packed with all the features that you will ever need to setup and run an effective business website like colour options, fonts, full-width header image, custom widgets, blog options and a bunch of other interesting, useful options.
DualShock comes with a bunch of advanced features, some of them that deserve a special mention include a fully controllable option panel, custom widgets, translation-ready functionality and the best search engine optimization in the business to help your content soar to the heights of search engine rankings.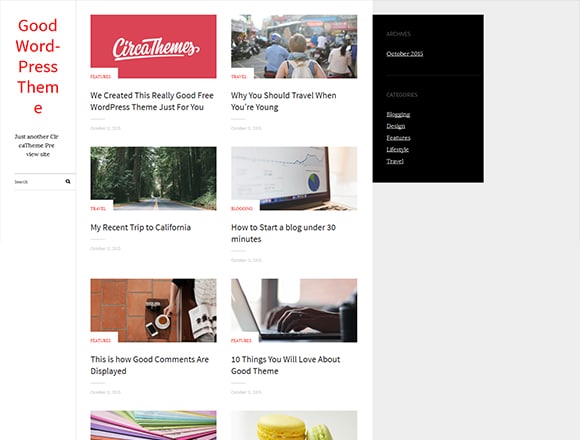 A simple yet elegant portfolio styled theme that is bound to promote your art, photography, sketches and more without having to worry about all the technical aspects of website building. The theme has a meticulous creative touch which makes it a great option for people with creative online business, blog or an art store.
Before you move on here are some of the articles that you may find interesting:
Screenr has been designed for people who appreciate good design and the theme not only does justice to that but also packs in a bunch of other functional features to help you stay on top of the game. The theme is overall very bold and stylish which makes it a great option for business, portfolio, digital agency, freelancers and everyone in between.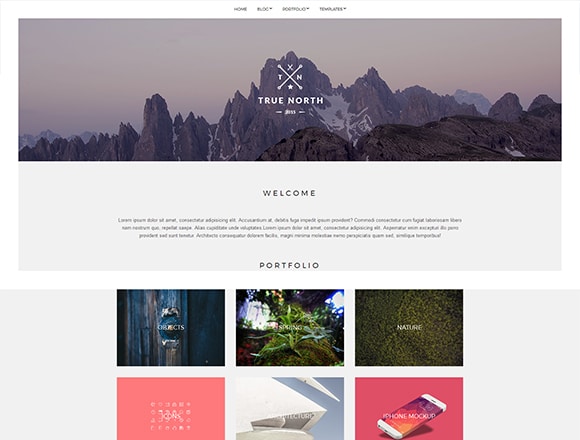 TruenNorth is a portfolio theme designed to cater to all your needs of product and profile showcase. The theme goes a long way to help you show off your work in a way that can attract attention and help your visitors make a positive decision.
A fully professional theme that includes the much-needed feature a powerful website needs to excel in any niche. Some of the many features that you get hands on with this theme include search engine optimisation, custom widgets and a highly optimizable options panel that lets you customize almost every part of your website.
A theme that suits equally to freelancers as well as companies with its subtle design and functional elements. The theme has been built using the latest technologies and comes with a precise number of customization opportunities that allows you to adjust every corner of your website just the way you always wanted.
Basic promises to give you access to all the basic features you will ever need to setup and run a successful website and that very thing is its strongest forte. On top of that the theme also gives you sufficient control over customization should you choose to weave it in a way suits you and your visitors best.
A fully responsive theme that comes packed with layout and customization options to help you build a website that can attract attention to your non-profit and education website.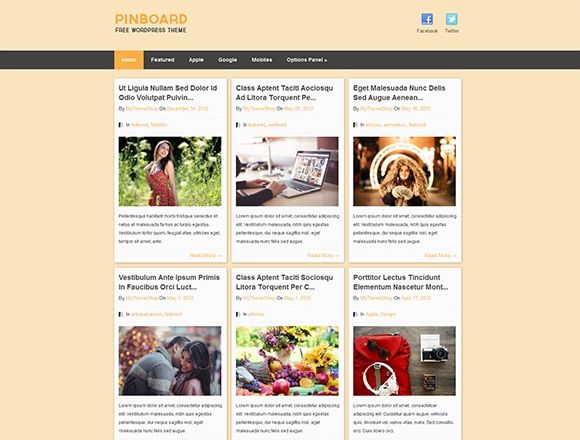 Pinboard is a Pinterest inspired theme, and it takes all the design and functional cues from it and then coverts them into psychological triggers that force people into clicking more on your content. The grid layout allows for a lot of content to be presented on a single page while the unlimited backgrounds and color schemes allow you to fully customize your website and convert it into something truly elegant and truly unique.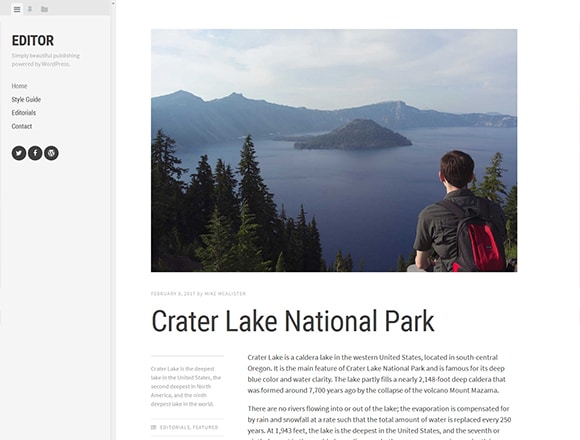 With Editor you will be able to present bold websites in front of visitors in a way that is going to keep them immersed in your content for hours at a stretch. The theme is typography driven that ensures focus is put right where it should be, that is, your content.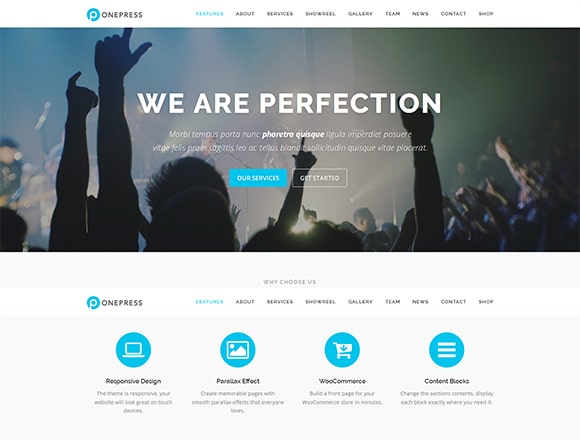 OnePress is an elegant one-page theme that has been designed keeping in view all the essential requirements of business, portfolio, digital agency, product showcase and freelancers websites.
Portal is an exquisitely subtle theme with minimal texture, and a magazine styled layout with just the right blend of light, bright colors and a bunch of other features that make a bang for the buck, except only that you do not have to pay any "buck" at all. The cherry on top is the theme's full responsive layout, search engine optimization, custom widgets and much more.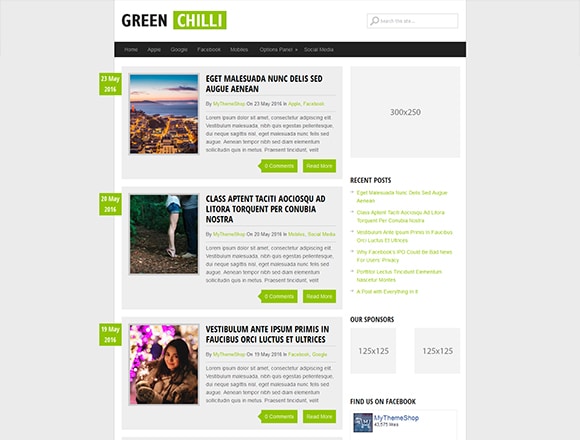 The best part of GreenChilli is its full customization options that allow you to optimize almost every aspect of your website with just a few click and little to no effort. The theme is overall very clean, blog styled, fully responsive, search engine, as well as advertising, optimized.