Going on a trip is fun, as it's the perfect opportunity to learn new things in an entirely new environment, see new sights, and meet new people. It's also the best way to get out of your comfort zones and become braver and more adventurous — a development that you'll no doubt find highly useful in the field of entrepreneurship. Here are business trip packing list and tips that will make your travel smooth.
These days, it's becoming more common for entrepreneurs and business owners to take business trips to expand their company's horizons. It also helps their connections flourish and provides more resources and opportunities to achieve their organization's goals.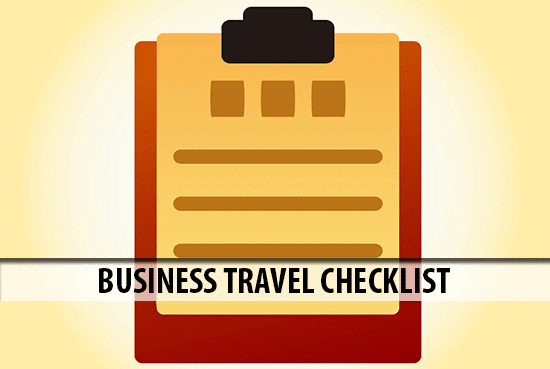 But traveling, especially for hundreds of miles, isn't a walk in the park. To make the business trip a success, there must be careful planning involved, not just for what you expect to happen, but for everything, even disasters waiting to happen. And trust us — if things can go wrong, they will.
The infographic by Quill gives the business trip packing list and some tips which will be helpful to you if you'are travelling for the first time:
Your go-to business trip packing tips
Infographic by
Quill
Also, here are some top business trip pointers you need to know that will spearhead this activity into a success:
Pack efficiently
When going to an unfamiliar place for the first time, your instinct is to bring anything and everything you need to counteract situational dangers or emergencies. What if you attend a formal party and you don't have the proper attire? What if your client's company invites you to the beach and you don't have your swimwear? What if…? Which comes in outwear based on destination in Business Trip Packing List mentioned in the infographic.
The key to packing for a trip is making sure that you're both well-prepared for everything that'll happen without sacrificing luggage space for your most essential items, being charged extra for additional luggage or excess weight, or having to carry loads of things that you didn't even need the entire time. Other packing hacks and tips and mentioned in Business Trip Packing List.
If your business trip only lasts a day or two, it's better to limit yourself to the essential clothes and items you need. Anything you can buy near the place of your stay (or your accommodations will provide) can be answered later. Try to limit yourself to a carry-on bag, which not only saves you on luggage fees but also profoundly prevents your things from getting lost due to negligence on the airlines' part.
If you must bring luggage for a more extended trip, again, pack only what you're 100% sure will be used first. Check your trip itinerary to make sure you're packing everything you need, and then bring a few extra just to be safe — or better yet, pack items with multiple uses so you can rinse and repeat.
For example, if there is nothing on your itinerary about going for a swim, but you know that your client does water sports (and you will be meeting them near the sea), pack a swimwear and plan an outfit around that piece. A one-piece swimsuit can also function as a bodysuit while swimming trunks might also work for casual wear (depending on the style). It all depends on how well you can work around with a viable solution.
Keep multiple copies of your vital documents
It's unfortunate if you end up losing your passport, visa, IDs, credit cards, Travel & Expense policy, and any other crucial papers during your trip — where you are miles away from the place where you can have the situation fixed. Having multiple copies beforehand not only helps you have proof that you had these documents in the first place but can also help you prevent losing them in the first place!
The way it works, you can instead opt to present the photocopy of your passport in case it's asked for, and you won't have to carry the original in your bag while you stroll about town. This also applies to your IDs. Of course, it's still essential that you first check if a photocopy is sufficient with the asking party or if you still need to procure the original. This tip is included in Business Trip Packing List infographic though but still I thought its better to emphasis.
Here is an article on How Your Smartphone is Your Best Friend if you are traveling.
Of course, this won't work with credit cards, but having a photocopy of them in your bag is helpful, too. In case your credit cards get lost or are stolen, you still have the information you can give to your bank for them to immediately deactivate your card, preventing it from being used without your permission or knowledge.
Research about your destination and make sure you're prepared to stay there comfortably
A new place means a new environment, one that you aren't accustomed to. It's a thrilling learning experience, of course, but going in blind is just asking for disaster. Knowing what to expect with the place prepares you for everything — like what to expect with the weather, how can you travel to and fro, and even where the best places are for your different needs (such as a restaurant for a business meeting or somewhere to kick back and relax).
Ample research also helps you know what and what not to do, cultural-wise and legal-wise. It'll be a heavy burden for you and your company if you somehow end up being jailed for a crime you didn't know you committed, or you just made a horrible impression by being unintentionally rude.
As a bonus advice: remember to buy a local SIM card as soon as you land so you won't be charged with exorbitant international calls and message fees, pick up a map and a dictionary of the local language, know where your Embassy is, and have a list of the emergency contact numbers you need (hospital, police, Embassy, hotel/accommodations, etc.)
Make reservations, but don't forget to confirm them in advance
Reservations give anyone peace of mind. It lets them look forward to enjoying privileges of a sure slot. You won't have to wait for hours or endure long lines, only to end up disappointed.
Aside from hotel and airline reservations, if you're meeting your client in a restaurant, make sure that you've secured a table for the party and that this reservation is confirmed in their system. This way, you'll save yourself from the embarrassment of walking through the front doors of the restaurant, only to find out that there are no available tables or that your reservation doesn't exist.
This also goes for when you're booking chauffeured services. Book them in advance, so you're not scrambling to find a chauffeur when you're already running late or are in danger of doing so because everyone's suddenly booking, too.
Being prepared is a given when it comes to traveling — but being arranged smartly and directing your attention and energy to all the right aspects will boost your efforts tenfold. If you keep these tips in mind, you're guaranteed to have a memorable, safe, prosperous, and eventful business trip!
Did I forget some business trip packing list or do you feel there should be more things included in the list then let me know by commenting below.