If you are looking for Clash Royale Gems Generator To Get Free Gems then I want to stop your search right here. There are so many websites and apps claiming to give clash royale gems generator. But do they actually generate free gems? Or they just are false websites wasting your time? So, I decided to check them out so that you won't be fooled by websites anymore or tell you the websites that actually give free gems.
I decided to search and find out the working Clash Royale Gems Generator on every platform such as Google, app store or from gift cards or offers and youtube. Let's see if I found out a working Clash Royale Gems Generator or nothing.
Searching Clash Royale Gems Generator on Google
Firstly I searched Google for websites that claim Clash Royale Gems Generator to see if they work or not. I was sure there's a lot of new goofy and fake websites. So, here I get started by searching on Google Clash Royale Working Free Gems Generator instead of Clash Royale Gems Generator as the keyword I am searching is more accurate and I am sure will give more search results.
On searching, Google yielded around 13,30,000 results which made me more curious to start using and testing the methods that claim to generate free Gems for Clash Royale. I am listing the sequence of the results that I tested with the outcome I got.
Google 1st Result: https://www.jeuxvideo.com/forums/42-25167-53303208-1-0-1-0-working-clash-royale-hack-unlimited-gems-gold-100-free.htm
Ongoing through the website I found that the website is sort of forum and one of the users have posted the post with no sense. By this, I mean that he has just stuffed lots of keywords making no sense and also promises to give free Clash Royale gems and gold.
Outcome: Fake and doesn't work.
Google 2nd Result: https://clash-royale-hack.myshopify.com/
Let's give this one a shot luckily this website is not filled with nuisance content and looks a bit professional. So let's use this website Clash Royale gems generator hack to become a top player and also get a ton of resources. I scrolled down to select the Free Gems and chest cheats. After clicking I was redirecting to a new page which seems like a shopping page. And it showed that only 4 stock was left and the sale was ending in 2 hours. So, I clicked on Hack now and was redirected again to a new page.
This time I was redirecting to https://royalegenerator.net/30907/ which seems like a Clash Royale Gems Generator.
So I entered my username and selected the platform as IOS and enabled encryption. And now let's connect my account. It showed a loading bar in which it was written Connecting #username and asked me to select the number of Gems I want so I selected of course the maximum gems I can get and finally clicked Hack. It started hacking and showed some loading and generating something. After some, while it showed a pop up asking me to verify whether I am human or not.
Human verification prevents robot abuse to the generator. And I was required to bypass the human Verification by completing one of the offers which assured me that it is a money making scheme and will not help me generating the free gems and resources in Clash Royale. I want to make it clear to everyone that whenever you see anything such as complete the survey to download this file or download this app first to get some other app that you desire, 99% times they are fake and are running these schemes to earn money.
Outcome: Asks to complete the survey. Obviously fake and useless.
Google 3rd Link: https://clashroyaleboss.com/clash-royale-hack-review/
After checking top two search results in Google I decided to give one more shot to became the clash royale master. The Title of the link was also interesting: Clash Royale Hack Tools (No survey) Review. This seems legit as it says that I don't have to do any survey in order to get Clash Royale Gems. After opening the link I found that the admin has reviewed a Clash Royale Gems Generator hack tool which offers to generate free Gems and Resources. And of course the website didn't reveal the method to generate clash royale gems and resources. But asks to enter email id and the method will be sent to the email. I decided to give it a try and entered my email. But I didn't get any legit way to earn gems and resources in Clash Royale. I think the admin will collect the email ID and use them later with some promotion or so. The website was a garbage without no genuine method.
Outcome: The website is collecting emails and fooling people.
Google 4th Link: https://gamingbison.com/clash-royale-hack/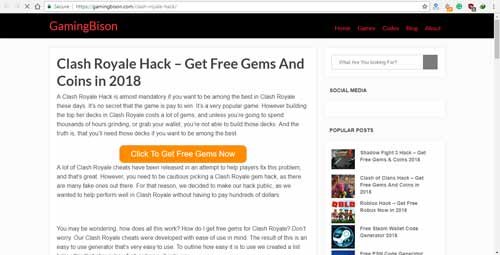 Let's move on to google search result 4th after failing to find a working clash royale gems generator. I'm not gonna bother reading all this Let's just go straight to the generator and see what happens. So I straight away clicked on click on to get free gems now. As usual, I got redirected to another page where a similar clash royal gems generator to 2nd google search result existed in which I was needed to complete the survey.
Outcome: The website asked to complete the survey. This website is again fake.
Google 5th Link: https://www.livebinders.com/play/play?id=1951045
The fifth result on google was also nothing but scamming people by making them complete a survey.
I filled all the details and got redirected to another page where I was asked to complete various surveys and in return, I was getting nothing.
Outcome: Another scam website asking to complete the survey.
Clash Royale Gems Generator by downloading the Apps
Now I thought I should change my search query as I didn't found any working method till now that is a legit clash royale gems generator. So, this time I am googling "No survey Generate unlimited gems and gold". I got the first five results same but the sixth result was different in which I was supposed to download an app to generate clash royale gems and gold. So I downloaded online hack tool in my mobile to see whether it works or not? I selected the number of gems that I want, to be honest, I maxed this out to 50,000 and as far as gold goes I can go to a million. Then I input my hashtag and continue, so it started preparing and Initializing connecting to the server. I didn't know how long this is gonna take but it completed within 10 sec or so. Now it again redirected to a page where I was supposed to complete the surveys. Whats wrong with the world. Till now I have not found any legit clash royale gems generator.
Searching Clash Royale Gems Generator on Youtube
I thought of talking about Clash Royale Gems Generator because this subject just needs to be talked about because apart from googling this even if you search this on youtube every single youtuber talks about it but not in the way that I want to so basically if you are on YouTube and you search how to get free gems fast you're just gonna find a whole bunch of misleading and stupid videos tricking you into using their referral code so the youtubers benefit but then the people they tell to use like these methods of getting free gems these methods really never work so just right here I searched how to get free gems in Clash Royale and after analyzing the first six videos they were all fake and then if we scroll down a bit more it's the same exact thing even faker.
Every single method of getting free gems and clash of clans does not work at all, even till now I am not able to find any Clash Royale Gems Generator.
Conclusion
There is no working Clash Royale Gems generator available so don't be get fooled or scammed by others. I showed you every possible way by which you can get the CLash Royale Gems generator but none worked. Most of them were asked to complete the survey which I did but nothing happened. Also, I wouldn't even waste my time downloading and searching for Clash Royale Gems Generator or Clash Royale Gold or resource generator. Clash Royale developer has considered all these hacks and tweaks and disabled all these hacks that can hack their servers. Also, Clash royale servers are super secured. Majority of the websites and videos available are very misleading and to be honest they really won't help you out at all. Most of them are really just trying to use you guys for free money so hopefully, this article will help you out and clear the myth of Clash Royale Gems Generator.
If you really want to get Gems in Clash Royale the best way is to buy them!
If you know any other site or video that are scamming people over clash royale gems or gold generator then do tell me by commenting below and I will add that in my list.