Microwaves have now become a necessity for kitchen as they save cooking time for women, both professionals and housewives. Another benefit with these appliances are that they save electricity and are easy to use.
For microwaves, LG is the most preferred brand in your kitchen space, lets know the reason for its popularity. Read on.
LG microwave ovens have been impressing our Indian women since years. These microwaves are engineered to adjust with your fast lifestyle and are available as built in ovens, grill ovens, convection and OTG. The solo microwave ovens can help you with heating the food while those with grilling feature can grill, roast the food with ease.
LG microwaves comes with advanced features and are designed to suit all your cooking needs. It comes with sensor cooking and reheat functions that shuts off automatically when the food is done.
Why LG is the choice for microwave ovens?
1) Enjoy delicious food
The old microwave ovens work by using intervals of power for heating and cooking the food. It shows that high power goes on and off till the cooking time is complete. LG microwave ovens allows you to heat potatoes properly by heating up completely.
2) Ease of Use
LG microwaves can be used for browning meat and popcorn. It has easy control functions and its manual has all the information. You can press the number of seconds for how long you need the food to be cooked.
This microwave has lot of power that allows the food to quickly. LG's 2.0 cubic ft.model has a shelf that allows you to cook more items one at a time. While the defrost function has 3 settings for chicken, vegetable and beef.
3) Fair price
The best thing about LG microwaves is their affordable price. LG features some of the best mid sized microwaves without occupying much of your kitchen space. One problem with these microwave is the noise though it is not very loud but louder than other microwaves. If you shut its door gently then it will not be a problem.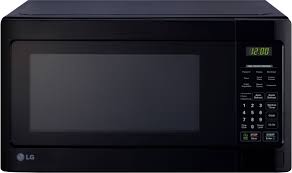 Final Thought 
LG microwaves have won many applaudes by delivering high end features. These come in form of convection, grill and solo microwave grill. The look and design of LG microwaves is great as the company uses latest technology making it different from other brands.
LG microwave ovens in India are available with the starting price of Rs. 5725. Healthy food is a must if you wish to have a nutritious food, for that you need to have a LG microwave oven in your kitche