[su_note note_color="#668fff" text_color="#000000″ radius="11″]How you can WIN?[/su_note]
Hey, I am organizing an International Giveaway of AOMEI Backupper Professional 2.8 License Key(Lifetime) on my Blog. All you have to do is just complete below Steps and get points everyday or once as the winner will be selected randomly but remember the more points you gain higher will be the chances of winning!
[su_note note_color="#668fff" text_color="#000000″ radius="11″]What is the Prize?[/su_note]
AOMEI Backupper Professional (Price: US$49.00) Lifetime License for Win7 is the simplest FREE PC backup, recovery, cloning software that is especially designed for Windows 10, Windows 8.1, Windows 8, and Windows 7 (all editions, both 32 bit and 64 bit systems).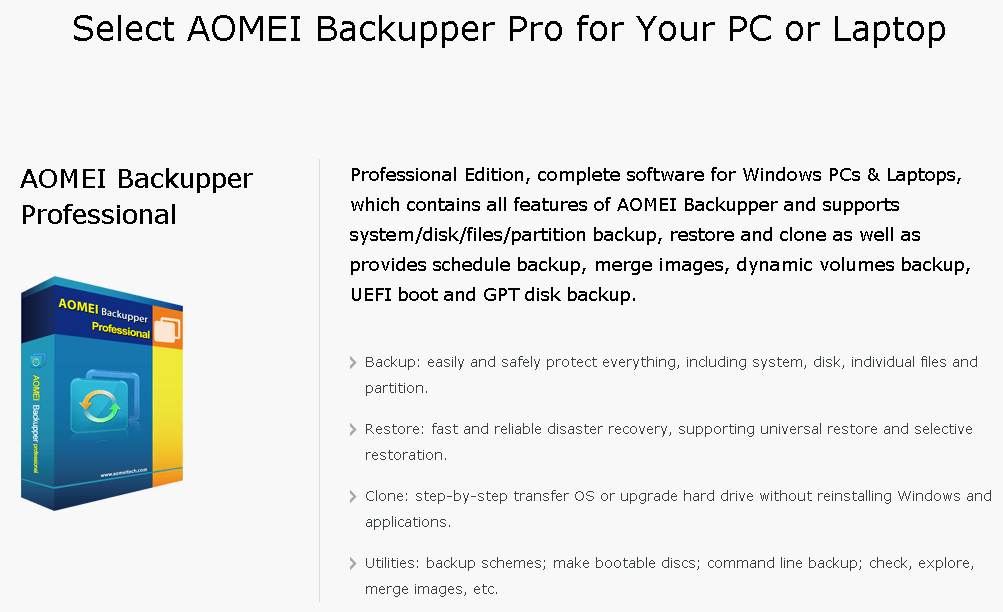 Well below are some of the most awesome features of AOMEI Backupper Professional described briefly:
Backup Features: Windows, settings, applications and the files required for computer to boot. Backup entire disk to get everything on the drive protected. Set up a schedule to back up your system and all files automatically, supporting daily, weekly, and monthly
Restore Features: Allows you to restore your computer system files and program to earlier state when everything was working properly. You can also Restore a backup image created on one computer to another/new computer with dissimilar hardware, or migrate system from physical to virtual (P2V) machine.
Clone Features: Clone a hard drive to another without creating a compressed image file. It allows resizing partitions during the cloning process.It also allows to Migrate operating system (OS) and all applications in system drive to the faster SSD or a larger hard disk drive without re-installing Windows.
[su_note note_color="#668fff" text_color="#000000″ radius="11″]How do I Participate?[/su_note]
This is simple, Just check the giveaway box below and complete the steps to gain more points everyday..so till then you have a good time to gain more and more points. So now you can download AOMEI Backupper Professional from their official website and the after the giveaway is over if you WIN you will get your license delivered to your email address.
NOTE: Contest has ended.
The winner of above contest is Elizaveta Hesketh
[su_note note_color="#668fff" text_color="#000000″ radius="11″]What are the Rules?[/su_note]
You can enter the contest any time between 3rd June and 23 August. There are no age or country restrictions. Multiple entries per person are allowed. In that case only you most recent entry will be considered for the contest.
[su_note note_color="#668fff" text_color="#000000″ radius="11″]Got a question?[/su_note]
If you have any questions or queries regarding the Giveaway you can comment below or you can mail me privatly at my email address: desidevs@gmail.com