Today we'll be reviewing two really good phones by Intex, the Intex Aqua mobile Super and the Intex Aqua Air, both of which are being applauded for their amazingly great features. Every new phone is vying to be the slimmest, big on storage, best on price and offering all the features as with most high end phones. Intex, with it's new phones promises to be big on delivering not only many great features but also a great battery, which seems to be a key thing that people have been looking for in any new phone that they are considering buying.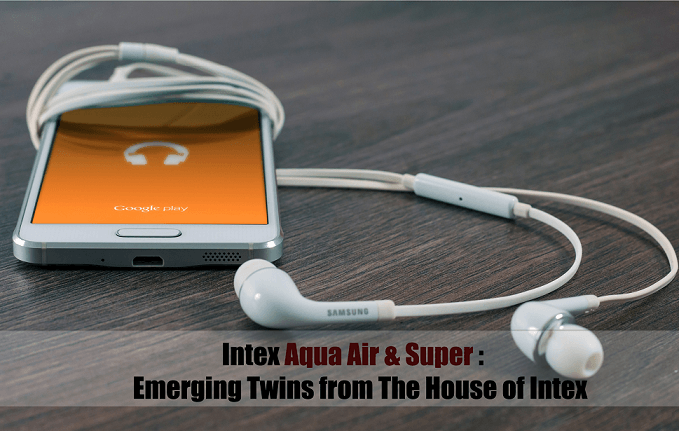 Whether you are an Android enthusiast who changes phones often or if this is your first phone, Intex is offering its products to both groups. If you've used Android before, you will be pleasantly surprised with the performance of both these devices. With 5.0 inch displays, the phones have 16 Million colours display that gives you rich and varied pictures.
In this post, we will explore the various features of the two phones and hopefully help you make informed decision, when placed beside each other, the phones look incredibly impressive, offered in 4 colours – white, black, grey and champagne, each colour looks elegant. These slim phones are incredibly light, the Intex Aqua Super is about 7.6 mm thick and weighs 130 gms while the Aqua Air is 10 mm thick and weighs 150 gms.
Aptly named 'Aqua', the seamless movement, like the flow of the water between applications makes for a good user experience. The Intex Aqua Super has a grand 3GB RAM that allows you to multitask, meaning you can use multiple apps without any hassle. However, the Intex Aqua Air comes with a 512MB RAM, still allowing you to use the phone and all of it's apps just as easily.
OS and Processor:
The Intex Aqua Super has a 1.0 GHz Quad Core, Cortex A53 Processor with MT6735P Chipset, while the Intex Aqua Air has a 1.2 GHz Dual Core Processor with MTK6572W Chipset. The Aqua Super runs on Android 5.1 Lollipop which is extremely user friendly with the most advanced features, the Aqua Air uses Android KitKat 4.4 that is smart and very simple to use. In all, these dual Sim phones are built for the internet, if you are an active user of various apps or whether you use just a few apps, Intex's offerings will fit your requirements.
Connectivity:
The smartphones by Intex are built to give you internet at your fingertips, the Intex Aqua mobile Super supports 4G service, while the Aqua Air has 3G capabilities. With WiFi, GPS, Bluetooth, tethering and portable hotspot both the phones are sure to help you stay connected.
Entertainment:
The Intex Aqua Super and Air have endless options for your entertainment, the phones support a variety of audio and video formats, such as MPEG, DivX, WAV, MP3 and lot more. The phones also have FM radio and few preloaded games.
Storage and Battery:
The Intex Aqua Super comes with a 3 GB RAM has an internal memory of 11 GB memory and expandable memory of 128GB, the Intex Air comes with 756MB internal memory and option to expand upto 32GB. What is perhaps the most impressive factor about the phones is their incredible battery life, while most phones offer best features, they lose out on battery life, the Intex Super gives an incredible 6 hrs talk time, while the Aqua Air outperforms it by offering 8.5hrs of talk time.
Camera:
One of the most sought after features in any smartphone is the quality of the camera, depending on whether you prefer a camera with high resolution, or if you like to take pictures on a casual basis, you can choose between the two – the Intex Aqua Super has an 8MP rear camera and a 2 MP front camera with autofocus, face detection, self timer and a many other features. The Aqua Air comes with a 2MP rear camera and a front VGA camera with many innovative features like smile detection and self timer.
There is no clear winner in the race of these two phones. Both the phones are a great value for money, have some top of the line specs and it really depend on the users, what all they are looking for in a phone.
[su_box title="About the Author" box_color="#005885″ title_color="#ffffff"]Soniya Sen is a creative writer, working with Infibeam.com, an online shopping portal that has a varied range of mobiles phones from popular brands like Intex Aqua, Sony Xperia, Apple, Samsung, OPPO, LG, Xolo, Micromax and other such reputed brands. These mobiles are available at prices that suit every pocket and cater to every user's needs. Infibeam offers a delightful shopping experience with its quick delivery of products, easy exchange & return policy, and secured payment options. [/su_box]