They say, "the most amazing things in life come for free, be it a cheerful smile, an incredible laughter, or a free downloaded app". Over the past few years, there has been an epidemic rise seen in the usage of free apps compared to the paid ones.There is a big question whether-Mobile In-app purchase Vs Paid Mobile Apps? An online survey by Gartner even reveals that customers are willing to spend more on in-app purchases than paying for a mobile app.
As a business owner who is looking forward to making greater profits, one of the most important steps is planning ways to earn money through mobile applications. App developers are constantly looking for the ways to maximize their returns on apps. In-app advertising offers the perfect opportunity for cashing on the growing potential and demand for phone applications. Although in- app advertising has yet to result in the significant monetary returns for advertisers, it should be viewed as a long-term investment with the potential to pay back handsomely when the technology matures.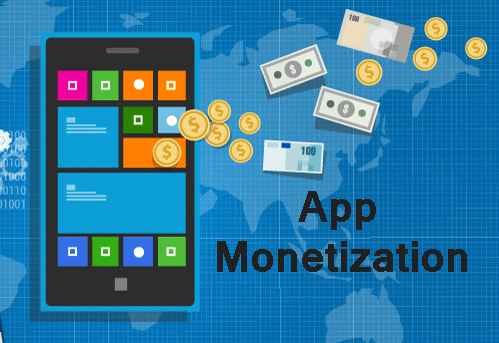 Monetization Models For Mobile Applications
Freemium- Freemium offers a basic or light version of a software application, the features of which can be unlocked free of cost. That's why it attracts the people. Freemium offers applications which are useful and enticing for daily use. It offers rapid growth of your user base. In this business strategy, the app's basic functionality can be accessed by the user without paying but he has to pay a desirable amount for unlocking its premium functionalities. This helps in engaging the users who readily pay for extra in-app tools.
In-App Purchase- As discussed above, in- app purchase comes free with ads. It aims at charging users for specific or premium functionalities or content when using an app.  
Paid Apps- Paid apps can be downloaded free of cost and can easily be purchased from the app store if the user wishes to. Paid apps require being a little different, usable and extra feature-rich when compared to free apps. In order to help this business model work, you either need a recognized brand with a dedicated user group or use a promotional service to show your app to a larger subset of interested parties.
In-App Advertising- This is similar to Freemium where you don't pay any amount to use or download your app. However, after having attained a huge consumer base, you can sell your app space to the advertisers.
Choosing The Right Business Model For Your Project (Mobile In-App Purchase Vs Paid Mobile Apps)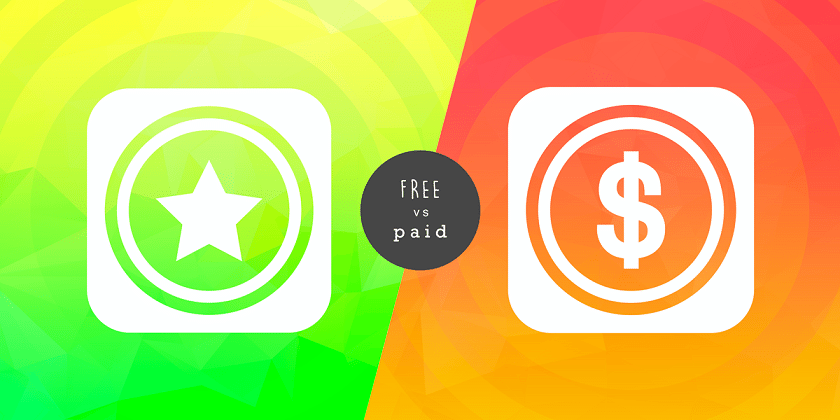 With the availability of multiple business models for app monetization, making your initial choice is incredibly important. Freemium and in-app supported models are constantly rising in popularity and profitability. The majority of developers are looking to earn revenue through either paid downloads or in-app purchases.
There are a few things that work in favor of paid apps. It is extremely easy for a paid app to become a chart topper with a maximum number of downloads. Now the question is can you make money by launching an app which requires the upfront fee. The answer is Yes; however, you will have to make the app work really well, price carefully, and seek out a niche market.
The process of choosing amongst the two (Mobile In-App Purchase Vs Paid Mobile Apps) depends on the nature of your apps and the industry type.
Paid Mobile Apps
They cut out all the hassles of implementing advertisements or developing features that only unlock after the user makes the payment. Each time the users downloads your app, they pay an upfront fee, you get paid- both the app store and Google play store take a 30% share, meaning the more you charge, the more revenue you generate. Moreover, you know the exact monetary value of each user, which shouldn't be underestimated when it comes to setting your promotion budget. The biggest obstacle you face with this method is competition from thousand of "free applications" and this is one reason which compels developers to create a free version and a premium "upgraded" version of their app to win the user over on the free version. To implement, all you need to do is simply set your price before submitting your app for publishing. Converting visitors to buyers using this business model requires a killer app listing, great press report, excellent reviews, and a well-defined marketing plan that communicates the value of app over other free apps similar in nature.
This monetization strategy works the best when:
Your business has a strong marketing presence.
The app is loaded with extra functionalities with similar ones in the market.
The features incorporated are worth the price value and users are willing to pay for them without giving a second thought.
When you want to link revenue directly with the number of downloads.
The paid model is more common in business, productivity, health, and fitness category where users may be more willing to pay for the service.
In-App Purchases
If you are concerned, the price tag attached to your app will drive users away, consider making it free to download and monetizing by encouraging users to make purchases as they use your app. On an average, in-app purchases account for more than 70% of the revenue that owners get from their products. In-app purchasing is a great way to pursue monetization of mobile landscape in an unobtrusive way. Users don't have to deal with advertisements at all because businesses these days are involving the use of  additional features made available for a price that users can choose if they deem it necessary. Using this business model, you will have a greater opportunity to increase your conversion rate by offering enticing extra features at your desired price.  
This monetization strategy works the best when:
User experience is your only priority and it is sufficient enough to encourage repeat visits even without a single purchase.
The in-app purchases add real value to users.
Your business deals in retail, shopping, services or gaming app such as Candy Crush, Tinder,Magisto, etc.
Closing Thoughts
Before selecting any of the monetization strategies, you need to evaluate the right goals for your business and how it would lead to generate the amazing user experience without compromising on the revenue part. An intelligent approach to app marketing, user retention, and PR practice can help achieve successful results in your app monetization strategy. To keep in mind that app monetization is an evolving space, with lots of innovation and efforts, need to put that help you generate revenue, you need to keep in touch with trusted mobile app development company who can provide ways to bring revenue. Don't be afraid to go away beyond when it comes to app monetization and always ensure that you are standing ahead of your competitors, by staying updated with the latest effective and not so effective methods in an ever changing industry.
What do you prefer- Mobile In-App Purchase Vs Paid Mobile Apps? Do share your thoughts with me by commenting below!