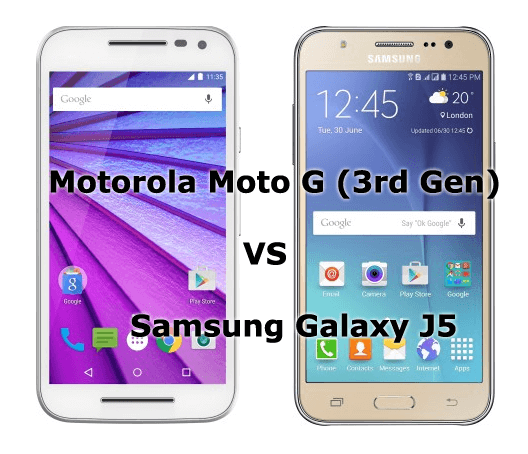 Few days back, Motorola,the Lenovo-owned company showcased its latest smartphone for budget buyers, Moto G Gen 3. The new handset packs a tempting set of specs, and comes in two avatars at different price tags.The low-end variant packs 1GB RAM and 8GB ROM, while the high-end avatar doubles up with 2GB RAM and 16GB ROM.With small differencein pricing and innards, bothvariants appear identical and boast water resistant capabilities with IPX7 certification. However, the high-end variant with 2GB RAM promises better performance, and goes straight against the likes of Samsung's latest 4G-enabled phone, Galaxy J5.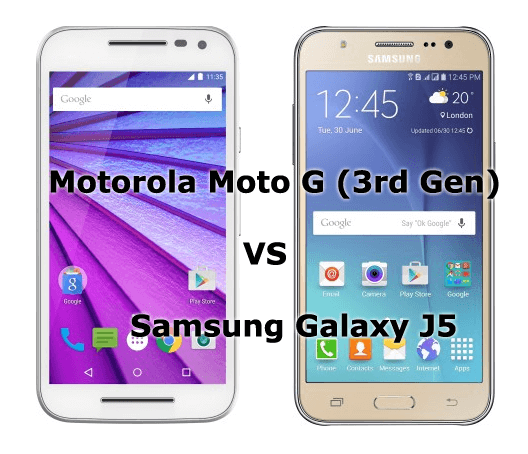 Both Android Lollipop-based smartphones pack top-tier performance, and feature stunning looks with decent build quality. They go head to head in major categories, and can certainly confuse would be buyers in just a matter of minutes.So, if you're planning to buy any of these smartphones, better have a look on their in-depth comparison given below!
Design and Build:
In terms of design, Moto G (3rd Gen) and Galaxy J5 both look stunning from all-angles. While Moto G features a textured rear panel with a strip stretching from camera module to Motorola's center-placed logo, Galaxy J5 boasts typical Samsung-based design with curved edges and a home button on its front-panel. Both phones come in a bunch of color options, but when it comes to dimensions, Galaxy J5 takes the game away by featuring a sleek form factor at just 7.9mm. Moto G is highly-customizable with swappable back covers, but it tips on the scale at 11.6mm and is pretty hefty as well!
Display Quality:
As far as display capabilities are concerned, Moto G (Gen 3) and Galaxy J5 both go head to head with their 5-inch HD displays. With a pixel density of 294ppi, both handsets deliver vivid visual experience and produce accurate colors from all-angles.They create a perfect ecosystem for multimedia enthusiasts, and take movies and games to a whole new level.But, few tweaks create a blurred line of difference between the two phones! On one hand, Galaxy J5 features an S-AMOLED display but lacks added screen-protection, while on other,Moto G (Gen 3)packs an IPS panel but comes protected with Corning Gorilla Glass 3. Either way, the situation still stays in balance!
Hardware:
Under the hood, Moto G (Gen 3) looks slightly better than Samsung Galaxy J5.The latest beauty from Motorola is powered by a quad-core Snapdragon 410 processor clocked at 1.4GHz, paired with 2GB of RAM. It packs glitch-free performance, and is much better than Galaxy J5 featuring the same processorclocked at 1.2GHz, paired with 1.5GB of RAM.With higher processing speed and more RAM, Moto G (Gen 3) certainly gets a thumbs up from heavy users.
Software:
Just like hardware, there is no big difference in the software department too. Moto G (Gen 3) and Galaxy J5 both run on the latest version of Android, and pack glitch-free performance for regular and heavy users. Galaxy J5 runs Android 5.1 Lollipop with TouchWiz skin on the top, while the new Moto G runs Android 5.1.1 Lollipop without any custom skin. The interface of Moto G (Gen 3) is close to stock android, and is complimented by a bunch of value added apps.
Camera Capabilities:
For photography lovers, Moto G (Gen 3) and Galaxy J5 feature the same 13-megapixel rear and a 5-megapixel front-facing camera. Both phones deliver prolific image quality under different conditions, and pack number of features like, Geo-tagging, face detection, touch focus, panorama, and auto-HDR.Their lowlight performance is extremely good, but the rear camera of Moto G comes with a dual-tone flash, while Galaxy J5 boasts asingle-LED on both ends.
Storage:
As mentioned before, the new Moto G comes in two storage variants with 8GB and 16GB of internal memory. Available at different prices, both variants offer expandability up to 32 gigs, and offer sufficient room for proper work and play. Similarly, Galaxy J5 also comes in two storage variants 8GB and 16GB of memory.Its inbuilt storage is same as Moto G (Gen 3), but options for expandability are much better with support up to 128 gigs via micro-SD card.
Connectivity:
On the connectivity front, both phones go head to head and pack decent support with a bunch of options such as, 4G LTE/ 3G HSPA+, GPRS/EDGE, Bluetooth, A-GPS, Wi-Fi 802.11 b/g/n, and Micro-USB 2.0. Theypack dual micro-SIM card slots, and deliver decent browsing experience on different networks. Accelerometer, Ambient Light sensor, and proximity sensors also come on-board with these devices.
Battery:
In terms of power-efficiency, Samsung Galaxy J5 looks stronger with its bigger 2600mAh battery. The selfie-focused smartphone from Samsung holds a bigger battery, and can certainly hold more power than Moto G3, housing a non-removable 2470mAh battery.The battery capacity of new Moto G has been increased, but still, it isn't good enough to stand against the powerful Galaxy J5. Whether you're at home, at office, or on the-move, the finest budget phone from Samsung will give sufficient backup to watch more videos, play more games, and surf on the internet without any trouble!
Price:
In India, the 8GB variant of Galaxy J5 is hitting the shelves at Rs. 11,999, while the 16GB avatar has not been revealed in the country.Its counterpart, Moto G (3rd Gen), on the other hands has been priced at Rs. 11,999 for 8GB and Rs. 12,999 for the 16GB variant. Both phones are currently sold as a Flipkart exclusive product, and are not available via offline channels.
Final Verdict
In our opinion, the situation is completely in balance between the two phones. While, Galaxy J5 seeks advantage of a sleek form factor and a bigger battery life, Moto G (3rd Gen) stands out with improved hardware and high customizability. In a nutshell, it all depends on your choice. If you're looking for a slim phone with longer battery life, go with Galaxy J5, else take your pick with the powerful Moto G (3rd Gen) available with a bunch of swappable back covers.