Have you ever faced the problem with your cloud storage or have not ever used a cloud storage. Then it's a right time to use Cloud storage as we are living in a high-tech world where we have lots of information but not enough space to store them.Well Multcloud is a solution to your Problems…MultCloud is a FREE tool released by AOMEI Technology at the end of 2013. Now it is 3.2 version. Its interface has changed many times and its functions and supported services are increased many. Now I think it is time to recommend it to you. It basically puts multiple cloud drives into one single free app so that you can manage files and transferring files across cloud drives more effectively.
How do MultCloud Works?
We live in an information explosion time. Except storing files in local hard disk, more and more people start to store their files in cloud services, so that they can access to their content everywhere. There are so many kinds of cloud drives that make users confuse. Many of them register the accounts one by one. At last, they realize it is a trouble to manage so many different services. Then MultCloud comes and helps them a lot.
It supports 17 clouds now. They are: Baidu, HiDirive, Yandex, CloudMe, Cubby, MyDrive, WEB.DE, Amazon Cloud Drive, Dropbox, OneDrive, Google Drive, Amazon S3, SugarSync, Box, Copy, WebDav, FTP/SFTP. To use MultCloud, you should create an account then add your cloud into it first.
The connecting process is easy and safe. It needs your cloud authorization. The authorization system of MultCloud is based on OAuth. It applies 256-bit AES Encryption for SSL, it won't save your data and files, because it can only be allowed to visit your cloud drive with your own permission, and you can cancel it whenever you want.
Features of MultCloud:
MultCloud will still transfer your files if your computer is switched off.that is you don't need to keep your PC turned on while transferring the file ,All you have to do is just copy and paste the file and the MultCloud server will achieve everything for you :) !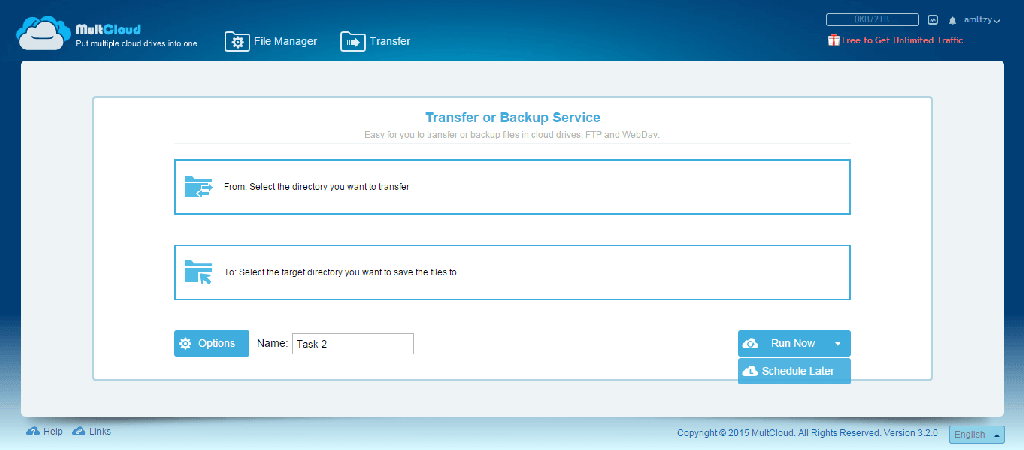 Switch to Transfer panel, click "Schedule Later" you can set schedule task.
Check or edit the task in Task Manager.
In order to speed up the transfer process, it uses Multi-server Parallel transmission.This technology is lightning fast and stable.
Multcloud has its own File Manager that is you can perform various tasks like upload ,download,copy or paste .File preview allows you to preview the file online and it supports Doc,PDF files etc
Now, the first time to use MultCloud you can get 2TB, but you can achieve to unlimited volume, do as follows please: click the red text "Free to Get Unlimited Traffic" into the new page, share MultCloud to your SNS then submit the URL to upgrade to unlimited storage.
Final Verdict
MultCloud is a free app, we really think that its basic functions are really powerful.Also we believe that it is the best app available for cloud management solution in the market.You should at least  for once give a shot to MultCloud.