If you have a website than the most important thing is to tell Google that you have a website and it can display your content in search result. This will help you to get organic traffic and hence giving your website a boost. In order to do this the first step is to create a Sitemap for your Blog which i have already discussed in my previous post. See: How to Create a Sitemap page in WordPress and then submitting this Sitemap to Google Search Console . You can use this Sitemap to Submit website to Google.
In this tutorial I will be telling you how you can submit your sitemap to Google Search Console assuming that you have already created a sitemap.
Step 1
The primary step is to login with your Google account to Google Search Console website.If you don't have a Google account you can SignUp for free.
Step 2
Now you have to Add your website by clicking a red color Button named "Add a Property" on the right hand side .
Step 3
Input your website URL (Make Sure to add https:// or https:// protocol accordingly). Press continue.
Step 4
It will ask you to verify your website. There are many options that you can choose to verify your website. Personally I recommend HTML tag method under :Alternate Methods" as it is a simple method. Copy the meta tag
Step 5
Now get back to your WordPress Site. Assuming that you have Yoast SEO WordPress Plugin already installed click on SEO and then "General"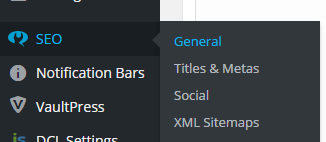 Step 6
Click on "Webmaster Tools" tab and paste the meta tag beside Google Search Console that you copied in Step 4. Finally press Save.
Step 7
Get Back to "Google Webmaster Tools" and Click on "Verify" button after completing Step 6.
You will receive a confirmation message.
Step 8
Now the next step is to Submit your Sitemap to Google Search Console.In order to do it the first step is to Goto www.yourdomain.com/sitemap.xml and copy the URL to your clipboard
Step 9
Get back in Google Search Console and Click into Crawl>>Sitemaps
Step 10
You will see a Red "ADD/TEST Sitemap" Button .Just click on it and add only "sitemap.XML" part after the domain. Note: You don't have to completely paste www.techtechnk.com/sitemap.xml but only sitemap.xml . Click on Submit Sitemap.
You have successfully submitted you site to Google Search Console and your website will be indexed properly by crawlers. You can monitor errors and warning as well  .
Also take time and Submit your Website Sitemap to Bing , How to Submit Sitemap to Yandex Webmaster Tools to increase your Website Traffic.
Was this tutorial helpful? If yes than please do share this article with your friends and let hem know how they can make their website appear in Google.