Recording a Phone call on android can came handy anytime !
Whether you want to record an argument between you and your friend or record an interview or record a pone call for customer-service call or whatever may be the reason here are some of the Best Call Recording Software's that you can use both in Android or iPhone !These apps or software are absolutely free and provide a vary high quality of phone recordings.You must try these apps atleast once .
These are some of your options:
1)Android Call Recorder:
It is one of the best Call Recording app available in playstore.This app provide variety of features such as:Search,grouping recording by date,auto delete old recordings,password protection of the recordings,lots of recording formats etc etc….Call quality is very clear and good as well
2)Automatic Call Recorder:
This App is the most descent call recorder .It records both incoming and outgoing calls.You can choose which phone calls you want to record or which you want to ignore.This application is integrated with Google Drive and Dropbox so that your phone call recordings can be saved to the cloud as well…!The app provide various formates in which you want to save your recording and listen them afterwards
3)Call Recorder:
This is also a good app for recording phone calls .However this app doesn't provide any extra features unlike automatic call recorder and records each and every call that you receives.This app also provide a very good feature of locking the recording to prevent any acciddental loss.Once you've installed this app just goto Audio settings and choose – Mic. Audio channel – Stereo. Recording Quality – High. File Format 3GPP. Both sides of the conversation are vey clear, and just remember to turn up your phone volume.
4)Android Call Recorder:
Android Call recorder is yet another phone recording app that may come handy anytime.The Basic purpose of this app is to record all your call(incoming and outgoing). Please make a note that this program only can record from microphone.So you have to turn on the loudspeaker during conversation to get the clear voice from other side. There is one drawback of this app that it may not work on some of the smartphones unfortunately .
5)Call Recorder(Iphone users)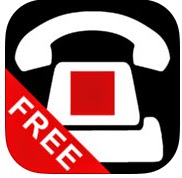 Call Recorder is the most easiest way to record your iphone incoming and outgoing calls.
Steps for recording an incoming (existing) call:
1) Open Call Recorder
2) Go to the Record screen and tap the Record button
3) Your existing call is put on hold and your phone will dial our recording number
4) Once connected to our recording number, tap the Merge button on your screen to create 3-way call between your existing call and recording line.