WIFI are always prone to Hack…!!!
Whether it's your neighbor or your friend ,everyone will try to hack your WIFI password .Some of them must already hacked your WIFI password and may be using it right know ….
So,it's always a good idea to be aware of what devices are connected to your home network!
You may have noticed that the file transfer rate aren't that fast that were used to be..So be aware your WIFI may have got hacked!!


With this trick you will know how to see who is using your wifi on windows..Many devices connected to your network may sometime makes the connection slow and that is very annoying!
To get the solution to this issue you can use the Free app for Windows ..that will let you know about the connected devices to your network..!!
STEP 1:
Install the software Who is on my WIFI by clicking
HERE
STEP 2:
After opening the App,just follow the tutorial steps which will initiate the first network scan.

You can also configure port range that will be scaned,this configure choice is optional.On running the tutorila you will see the list of  IP address in the window.
STEP 3: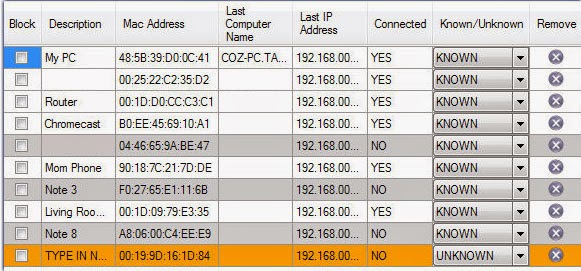 Now after completing the scan ,start identifying the different devices connected to your network.If there are lot of connections just as shown in the image it will be best to turn on WI-FI one by one at the time you label it.To label ,just click on the description and type the name of the device and Save in the top right-hand side corner.
If you're savvy with your devices and know where to find their local IP and/or MAC address, you can just use these as references for the labeling process. For example, tapping the currently connected Wi-Fi network on Android will display the local IP.
STEP 4:
This step is optional .If you found out any unidentified device connected to your network then you should consider changing your WIFI password..Some of the devices that are hardwired into your network are shown in the list with "NO" in the connected column.
What tools do you use to monitor your Wi-Fi connection? Share your favorites..!