Android has become the most common platform for the mobile users over past few years. Android provides an interface which is user-friendly. However, did you ever wonder about the applications that run on the phone devices?
As it is said, men's personality is determined by his clothes, so, somewhere applications kept by a person in his phone also matters.  It shows his choice and priorities.
Earlier Android phones had the facility to record the phone calls but it has vanished with time.
The feature has disappeared, but not the need to record phone calls. Imagine, some person has short-term memory problem and his work deals with talking to people, taking their instructions, then what? He will be fired from his job! So, the solution to this problem is that he can acquire an application in his phone which automatically records his phone call. Yes, I am focusing on the word automatic, as some phone call recorders record only when they are turned on!
So, here we are with the solution, it is Advanced Call Recorder for Android users introduced by Systweak. It is a Auto Call Recorder App for android Devices that is available for free!
However, before going to the download option, let's get familiar with Advanced Call Recorder.
Why the name is Advanced Call Recorder?
Advanced Call Recorder is an Android based application which records the phone calls, both, incoming as well as outgoing.  Well, the functionality is not limited till here, as it also records the voice.
That is the reason of calling it as Advanced Call Recorder. Although, there are other reasons as well mentioned below:
It record call's of the desired contacts. It is not at all necessary that you want to record all the calls. In that case, put those contacts in the ignore list. Simple!
It saves 50 recordings normally and in Pro version, guess, how many? Unlimited it is! Keep recording!
It offers a feature to block unwanted calls. Since today, the scenario is that you get calls from customer care services, unknown people, that too when you are sleeping or in a meeting. So, rather than showing your anger on a phone just put those numbers in the block list.
It offers you to solve your security issues by simply putting passwords or setting pattern for or the folder in which recording has been saved.
Another thrilling feature is that it permits user to generate reports so as to obtain the recordings for the particular dates in a sorted manner.
Display and Operation
Advanced Call Recorder has a display which is unfussy and well- ordered. All the options are listed on home page such that user do not find any problem in using its features.  So, no need to release sweat!  As Uncomplicated and simple display it has to understand!
Mechanism of Advanced Call Recorder
The Advanced call recorder records the calls automatically.Yes it is an auto call recorder app.  However, if in case, you do not want to record calls for particular contact, simply tap on the screen where the option of recorder is shown. It will stop recording and another thing that can be done is by putting those contacts in the ignore list.
I put some of my contacts in the ignore list and also set password for my call recordings to ensure the security of my confidential details!
I recorded phone calls and voice too which showed separately by the name of voice recording and call recording so that I do not end up in getting confused!
I marked some of my recordings into favorite as well. For that, the favorite option must be set ON.  I also shared my recordings through WhatsApp and email. Well, the application can also be shared by the same means.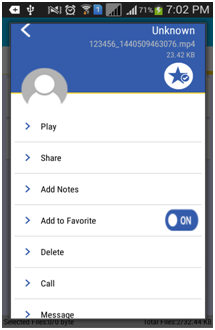 The Advanced Call Recorder prompts you before saving the call recording. So, if you do not want to record, just click on No.
Also, being into love with different fonts and writing styles, I changed my font style by going into settings option and chose the font as RobotoCondensed
Outcome
The outcome was that I was able to play my phone call recordings and voice clips through the inbuilt audio player in my phone. It was easier for me to search for the particular recordings as I generated a report by providing input in the form of dates, for instance, you can generate report for the dates, 4th of March to 11th of March. All the recordings will be listed in a sorted manner. 
Final verdict
Advanced Call Recorder is the best application that I have ever come across for the Android users. I mean, it's so simple with it to record calls automatically.  And the best thing is that it asks you to save the recordings because at times, I do not want to record calls, so I just click on No.
Moreover, I do not need to search recordings; I just add few of them in my favorites.
I would advise Android users to try out this application. These diverse features and the ease of use are less likely to be found somewhere else. Hence, to record calls of your closed ones, for business purpose in order to jot down the significant information, this application is best suitable.
It's a two in one combination. Record whatever you want, whether it is voice then or calls!