To find the best office printer for your office requires you to do some thinking about how you are planning on using it.  What do you need?  No paper jams?  Multiple functions?  Color?  Speed?
It sounds like a really good idea to live in a paperless office.  Preserve trees, eliminate clutter and more.  However, the reality is that a paperless office sounds better usually when it is described as part of a corporate plan rather how it works in actual reality.
Even if you need to do some printing once in a while at your office, it is a significant improvement over those days when people thought they had to print out each important email they got.  I think I might have a couple of those stashed away in a drawer someplace.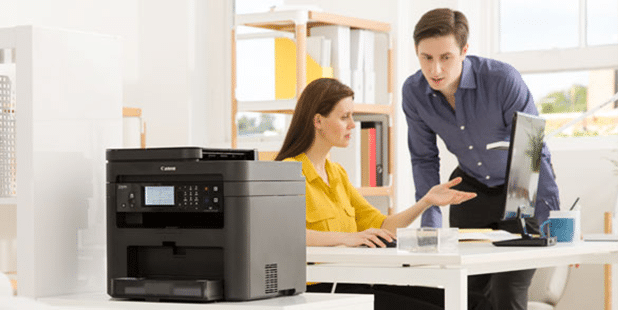 Key considerations when buying an office printer
Before choosing an office printer first think about how you will be using the device.  Understanding what your printing needs are will help to ensure that you choose the best printer.
Laser and ink cost
This is among the most difficult aspects of a printer's cost to calculate.  Ink costs are very high and cost over $6,000 per gallon based on what you have to pay for every small ink cartridge that you buy.  Over the long run, laser costs are less expensive than inkjets.  Some printer manufacturers provide a cost per page for using their printer.  However, their measurements do not always align with the way you use the printer.  Therefore, your costs will most likely be different.  How many ink cartridges are used by the machine in another aspect of your overall ink costs.  For example, a color inkjet printer for photography can have as many as eight cartridges.  Over time, replacement costs can be much more expensive compared to a monochrome printer that just uses a black laser cartridge.
Paper handling
Different paper sizes and thickness of paper are used by different printers.  A printer might have a paper tray that holds 100 sheets of paper or more, or it could have a paper feed that holds a few dozen sheets of paper.
Resolution
The resolution of a printer will be listed by printer manufacturers in dpi (dots per inch).  For example, if the resolution of a printer is listed as 1200 x 1200 dpi, the printer lays down 1,200 dots vertically and horizontally per square inch of paper.  That is a higher quality of resolution compared to 300 x 300 dpi, for example.
Size
Larger printers have a tendency to have larger paper capacities and better print speed compared to small printers. Therefore, a large model might be a better fit for your office.  However, there are also many good small versions available now.  You also might want to have a printer that is battery-powered so that you can take the printer with you.
Speed
 A speed rating is listed by print manufacturers on their devices that are based on how many pages can be printed per minute.  Frequently those ratings are different for color prints versus black and white. Those ratings are for the best printing conditions possible, so your real results might be slower than the ratings. Inkjet printers are a lot faster than they were in the past, but the best laser printers are able to produce black and white copies the fastest.
Kinds of office printers
When searching for a good office printer you will run into several different terms.  Knowing what each of those terms means can help to ensure that you choose the best model of printer to use in your office.
Inkjet vs. laser
Compared to several years ago, laser printing is a lot more affordable, so it is worth considering this option. Over the long run, laser printers are less expensive when you have many text documents that you need to print. This makes them very good small business printers.  Also, laser printers are a lot faster compared to inkjet printers.  Typically, inkjet printers are better with odd-sized paper, photos and graphics compared to laser printers since inkjet printers tend to look better on matte and glossy photo paper.
Compared to several years ago, color laser printers are much improved, in terms of both cost and quality.  However, they are still more expensive than inkjet printers.  A very busy office that is in need of high-quality, low cost per print documents, will love how powerful laser printers are.  Opt for an inkjet printer if your office uses odd-size paper or needs photo printing to print brochures.
All-in-one vs. printer-only
Some printers offer print functions only, while others provide multi-functions.  All-in-one printers work as fax machines, scanners, and copiers, in addition to being able to print.  Small offices that don't want the clutter or expense of multiple machines, so a multi functional printer can make sense in those situations.  Larger businesses may need separate machines in order to handle the volume, so the best solution may be a printer-only option since the machine won't be tied up by print jobs when something needs to be copied or scanned. However, it is getting harder to find printer-only devices due to how popular all-in-one units have become.
Specialty printers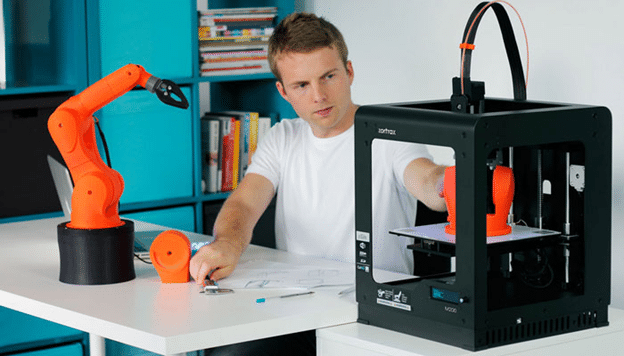 There are several kinds of specialty printers available in the marketplace.  They include 3D printers for creating objects, battery-powered printing on mobile printers, and wide format printers to print poster-sized prints.  There are also external tank inkjet printers that have large ink tanks, so you don't need to swap out the inkjet cartridges constantly.  Over the long term, large ink tanks are less expensive compared to small cartridges.
Different connection options
 Most office printers can be connected to a network, through either an Ethernet cable connection or Wi-Fi connection.  You can print via a direct USB connection as well with a tablet or computer with most printers. Some printers will also printer over an NFC or Bluetooth connection using a mobile device.