Comments are your haven of meaningful interaction (not counting spam, of course). So it only makes sense for you to jazz up the comments section of your WordPress website and make comment posting as easy as possible to encourage more of your loyal, enthusiastic readers to post their thoughts and ideas on your content.
WordPress core comment system is pretty awesome by itself, but there is so much more that you can do to make it even better. In this post, I have listed such 7 superb WordPress comments plugins that will let you make the most out of your comments section.
Comments +
Active Installs:  47K+

Price: Free 2 week trial, $49 per Month for WPMU DEV Membership
Comments + by WPMU DEV is a powerhouse of awesome features wrapped in a neat bow of awesome design that's also highly configurable.
The plugin has features like social login (to identify via Facebook, Google+, WordPress.com or Twitter account) and twitter comment mentions, easy integration with (and auto subscribe commenters on) MailChimp, multi-site compatibility, a bucket load of configuration controls for precise control, share posts (and comments) on Facebook, auto tweet, default providers settings, design configuration based on theme settings (looks at home on any theme!), dozens of add-ons (included in Premium), and so much more.
Commentator
Active Installs: N/A

Price: $17

Available at:

CodeCanyon
Commentator is quite brilliant.
The plugin supports images in comments, pick/delete settings in comment moderation, box theme support, multiple skins, flagging system, AJAX pagination and login/ register forms, social login option, comment voting system (similar to Youtube, enabled on entire threaded discussions as well), front end comment sorting and filters, design configuration with icons and colors, and so much more.
Yoast Comment Hacks
Every WordPress user and their mother know about Yoast, so it's natural that the Comment Hacks would end up on this list.
The plugin doesn't give you an entirely new comment interface, but it does make some pretty smart enhancements on default WordPress comments. You get cleaner comment notifications, options to add max. comment length, redirect first-time commenters to a Thank You page, comment parent ID editing, direct email links (or a single button to send emails) to individual commenters (for admin dashboard only) on a post, comment routing (front end) to a specific user, etc.
wpDiscuz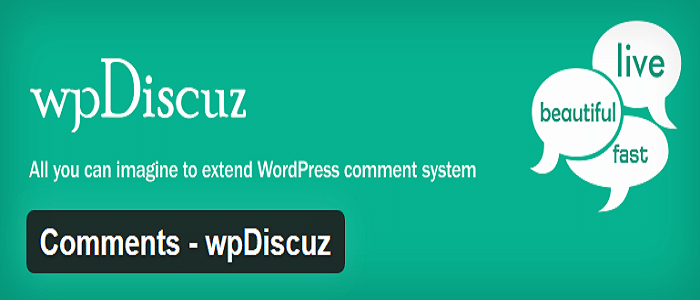 Active Installs: 10K+

Price: Free, with Premium Add-ons available at

gVectors.com

Available at:

WordPress Directory
This highly revered plugin is simply amazing.
wpDiscuz is free, and packs quite a punch simply with its easy integrations – BuddyPress, Users Ultra, Ultimate Member, UserPro, Akismet, WordPress Zero Spam, WPBruiser, etc. plugins work with this beauty flawlessly.
The plugin itself gives you a highly interactive comment box for specified content types and posts with notifications, front end sorting, 'Guest' comments, social login, threaded comments, AJAX comment pagination, Lazy Load!, WP-friendly date format, post-comment editing, auto URL linking and image embeds, subscription alerts, PostMatic integration, attachments, voting system, quick tags, etc.
Facebook Comments WordPress
Active Installs: 10K+

Price: Free, Pro versions available at $10-31 (One time Purchase)

Available at:

WordPress Directory
This little plugin works as advertised – bring the Facebook's super friendly comment interface to WordPress website.
The plugin lets you customize and configure your comment section's title, text color, font size and type, placement, width, ordering rules, maximum number of comments, language and more.
The pro version gives you even more configuration options with color schemes, backgrounds, positions, animations effects, etc.
Disqus Comment System

Disqus is famous. I am sure you have heard of this online commenting and discussion tool. Disqus Comment System will bring all that power using Disqus API and put it in your WordPress website.
The plugin syncs your comments with Disqus, makes them index-able and crawl-able by search bots, supports import for existing comments, backs up comments automatically with your database, supports threaded comments, notification and reply (via mail), RSS subscribe option, total comments counter, social mentions, brilliant comment moderation tools that cut your comment moderating time in half, powerful spam filters built in, and more.
Jetpack (Comments)
Another WordPress featured plugin – It's almost as if we don't appreciate what's right in front of our eyes.
Jetpack's optional (activation required, but free) Comments module replaces your WordPress comment system with cleaner, sleeker one. Complete with features like social login (WordPress.com, twitter, Facebook, and Google+), enable/ disable toggle for 'guest' (anonymous) comments, beautifully customizable Header Text ("leave a reply") in terms of font color and general comment form color scheme. And since it's WordPress, it will be highly compatible with the best and worst of themes.
Positively these comment plugins will take interaction and engagement of audience with your content to the next level and beyond. But make sure to use them well, complete with security and spam prevention plugins to stay safe while making your website a better place.
Here is a list of Must have WordPress Plugins for Bloggers 2016 also if you are looking for pricing table plugin then this post pricing table plugins to improve conversion may be useful!
Got your own Commenting Plugin? So, share with us by commenting below and let our reader also know about it. Plus do share this article with your friends and let them know some of the coolest WordPress commenting plugins