The trend of using Instagram has become very popular..everyone wants to get more followers … at least followers greater than my friends.But, unfortunately, you end up getting very few followers or no followers and you still have very less Instagram followers than your Friend's. Getting Instagram followers and likes is really painful. You have to follow others so that you will be followed back and in most of the cases you are not followed back..isn't?Here are some ways to hack Instagram to get more followers…that will defiantly help you!!
Well, then this trick or better say Instagram hack to get more Followers or likes is exclusively for you..You don't have to download anything or complete any surveys to get more Instagram followers.All you have to do is simply follow the steps that I am going to tell you!
METHOD 1
1) Connect your Facebook account with your Instagram:
This is the most obvious way to increase Instagram followers.By connecting Your Facebook account with your Instagram, you are telling your friends that you are using Instagram and they will for sure follow you .!!
2) Use Popular Tags:
Unlike any social media sites like twitter or Facebook, Instagram also allows you to use hashtags to get more visibility to your profile. You can use these popular hashtags to get more followers in your Instagram.
#love
#instagood
#me
#tbt
#cute
#photooftheday
#instamood
#iphonesia
#picoftheday
#igers
#girl
#tweegram
#beautiful
#instadaily
#summer
#instagramhub
#follow
#iphoneonly
#igdaily
#bestoftheday
3) Use popular filters
As you can use popular tags in the same way people may prefer photos with certain filters.Here I am listing top 10 popular filters you can use:
Normal
Earlybird
X-Proll
Hefe
Rise
Valencia
Amaro
Brannan
Lomo-fi
Hudson
4) You Follow me and I will follow you scheme
This is a scheme that is followed by most of the users on Instagram. If you follow a person on Instagram than the probability that you will be followed back is almost 10% only.So I my self-don't believe in this method.
5) Start commenting on other Profile
If you want to get more likes or followers on Instagram than you should start engaging with other users.Start commenting on others profile or like the photo of other and for sure they will get back to your profile and may like or comment your photo in return..!!
6) "Time" is the King
According to studies users who share photos on Monday at about 5 PM gets maximum likes and Comments than others who post at other Time..The second most popular time to post a photo is Wednesday at 3 PM..This may sound Bull shit but fact is a fact :)
7) Combine Two or Three Photos
In order to make your Photos more interesting and engaged you may combine your images into  one as a collage ..Or you can take multiple shots and then combine them into one.This will ensure more likes and comments.
METHOD 2(Preferred)
If you don't want to follow the above steps to increase your Followers or ikes than you can skip the above steps and still get lots of followers and likes for free.This Killer Hack will definitely increase your Followers almost instantly.Just follow the below step and you will for sure bookmark my website :)
AddMeFast is a network that will help you grow your social presence.It allows you to look and choose who you want to like/subscribe/follow/view and skip those who you are not interested in.
AddMeFast doesn't sell likes/subscribes/followers/views/hits.
Easy registration, 50 points at the start and 150 daily bonus points for active users.
Here are the steps to get started:
1) Visit :[thirstylink linkid="5196″ linktext=" AddMeFast" class="thirstylink" title=" AddMeFast"]
 2)Now click on try for free now.
3) It will ask you to enter your email id , password and captcha…..follow as it says.
4) Now an activation code will be sent to your email with which you have registered.
5) Open your email id , check out the mail send by addmefast admin click confirm your mail by  clicking the link provided.
6) You will be redirected to addmefast website .
7) Click on add site/page button in the leftmost column.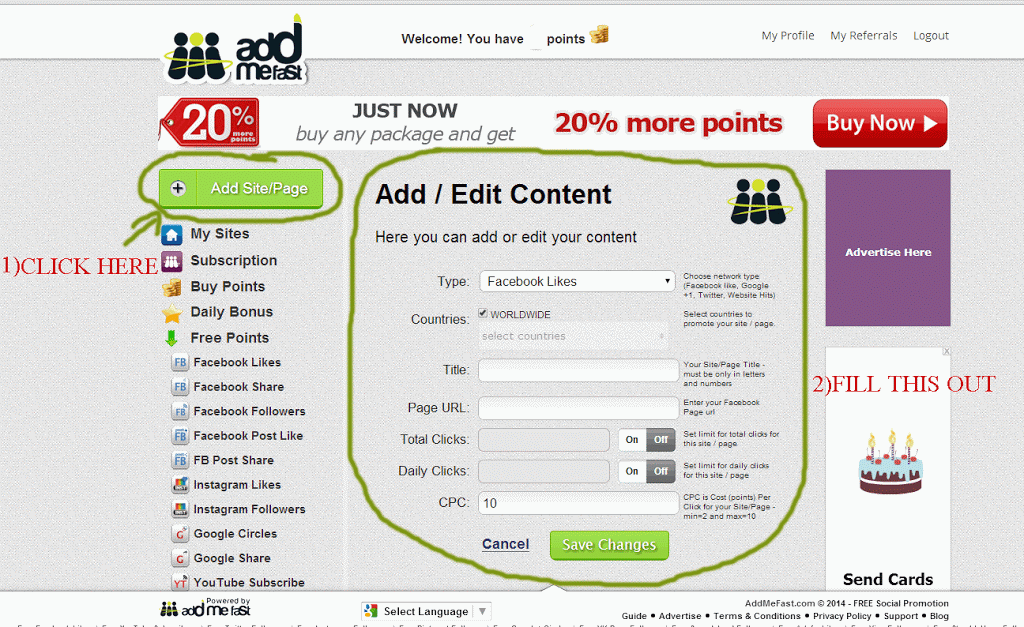 8) Fill out the form:
firstly choose what you want to get (Instagram Followers),enter the title of  your page ,enter the URL of the page that you want to get likes,enter cpc(cost per click).
click save changes.
For example : If you have (total of) 500 points and you enter a page to get likes on it with the CPC of 5 then every time you will get a like, 5 points will be deducted from your (total points)
9) That's it now your will start getting likes….!!
10) Now to get more point click on free points in the leftmost column.
choose from wide variety of options.
11) Remember to follow the steps as mentioned in red to get points.
[su_note note_color="#f5cbd6″ text_color="#000000″ radius="11″]
How to get more Points?
If you don't want to manually surf website and get points than there is a one more Hack to get more points all you have to do is simply follow the steps..!!
1) If you are using Chrome then install iMacro from this site: https://chrome.google.com/webstore/detail/imacros-for-chrome/cplklnmnlbnpmjogncfgfijoopmnlemp?hl=en
if you are using Firefox then
install iMacro from this site: https://addons.mozilla.org/en-US/firefox/addon/imacros-for-firefox/
Note: This iMacro bot does not work in any other web browser
2) Install the addon on your desire web browser
3) Now go to this site and follow the steps: https://www.blackhatworld.com/blackhat-seo/social-networking-sites/630341-get-multi-macro-automation-script-addmefast-allinone-bots-imacros.html (Forum)
For best-working script use this: https://www.blackhatworld.com/blackhat-seo/freebies-giveaways/709287-get-addmefast-imacro-script-7th-october-2014-a.html
[/su_note]