Social networks are no longer an optional channel for businesses. They are becoming a necessity that even budding enterprises can't survive without it.
LinkedIn, in particular, exists no longer just for large corporations with thousands of employees. Small businesses must now also exploit its potentialities. It is a crucial platform to find competitive talents, reach new leads and gain incomparable brand exposure.
A recent LinkedIn survey reported that there is a lurching 80% of small business owners who are now starting to use this media outlet. The motives are ascertained to primarily revolve around finding new customers and growing their revenue.
As stated by 'The Sophisticated Marketer's Guide To LinkedIn,' 50% of all users are most likely to buy from an enterprise or company they engage with through this platform.
While LinkedIn has paid services (such as going to premium profile level) but it's not going to cost you an arm and a leg. In fact, other great features can be availed that only charge time and effort up front.
Free services include keeping an updated company page. Enhancing personal profiles and connecting to individuals can also be used without any fee.  These sorts can be extremely essential for every small business owner at the present (or especially in the future). Indeed, LinkedIn is now one of the most important social media outlets for every huge business and startups alike.
The benefits of LinkedIn to small business are clear and many. This becomes an ideal channel to establish your identity and create further brand credibility. It is also a perfect platform to talk about your accomplishments. Or, others would say, LinkedIn is an ideal channel to build connections with the huge people.
Building your LinkedIn profile doesn't have to be a completely serious and strenuous rundown of your career or business past. Just like other social platforms, LinkedIn allows you to inject interesting things into your profile. This will let you further sell the notable parts of you and your brand to possible contacts.
Being a neophyte to this channel is something you shouldn't worry. As they say, every cloud has a silver lining! There's always something good in every unpleasant situation.
Now, take account the following considerations in creating your profile and you're good to go.
Blown up Photos Are Not For LinkedIn Profiles
Or using your kids' photo or your pug is not advisable on LinkedIn. No matter how adorable they are (you can keep them on Instagram instead), LinkedIn isn't just the appropriate place for them.
LinkedIn wants the professional image of you, not a hyped photo or a cropped out image where you can still see the left shoulder of the person next to you.
But, you certainly don't have to schedule a glamour shoot with Nigel Barker either just to obtain a better image.
What you need to do is sit or stand with a clean background, like a wall and have someone take few photos from your phone.
Then, select the photo you like most then have it uploaded to your LinkedIn profile to make it look more formal and credible.
Stunning Headline Must Be A Priority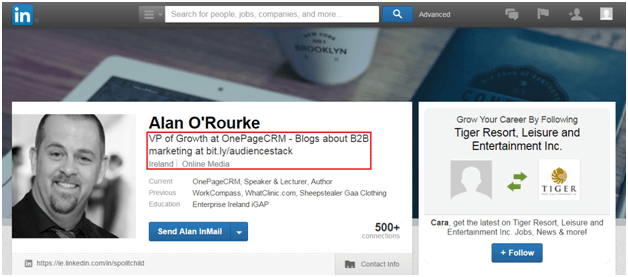 You have 120 characters at the top of your profile to tell the world what you do and what you have. Though many would prefer to put their actual job title, you can choose to be more creative.
The other way around, is you skip the traditional headline. Then, use the system to your advantage. You can use compelling and descriptive keywords. This could offer a number of benefits.
It may make you and your brand become as marketable as possible. It will also help you to get found by the right buying personas at the most tactical time.
If you have a knowledge of SEO, you will understand why keywords are important to be incorporated in your profile. Remember? LinkedIn is a search engine.
Examples include:
Entrepreneur and SEO Expert

CEO and Founder, Bob's Coffee Shop

Co-Founder and CEO of Anna's Burger

Small Business Owner and Blogger
In the same segment as your Headline, you can also select which area you reside and what particular industry you're in. It is important to make sure that both things are filled up as well in your s.
Govern Your Summary Section
After its 2012 revamp, the summary section has become LinkedIn's best part. You can now include high-resolution photos, an infographic or a video.
Though, it is still well worthy to put an effort in writing an interesting and unique summary section. These are the first things that people read about you. Think of it as your one minute self-commercial. So, it's necessary to have them attention grabbing and memorable.
There are few considerations that you can look into when writing a good summary. You can have it patterned like your bio. Or, have a copy of your resume pasted into it. You can also use core competencies approach. Here, you can list three-four skills you're good at. Or as an alternative, you can list three-four achievements you have, but — in a more comprehensive manner.
Remember, this is a great place for you to inject flowers into facts. But, remember not to complicate the simple.
No matter what approach you choose, it is important that at the end, the reader should have a strong idea of who you are and what you do. Have your summary section ended with a strong call to action (e.g. Notify me to discuss opportunities through my email at bob@example.com).
Show Experiences Systematically
In filling out your past experiences, remember that there is no distinct rule to follow. But, it is necessary to stay relevant as possible. Include everything that you are glad or proud to share about. However again, forget everything that are seems unrelated.
Example, you were once a parking attendant during college, that's irrelevant. Or, you had an internship with a marketing firm in New York. Now, that's relevant.
Recommendations Are Key
This is a portion that we see easily fall through the cracks. But is an essential gear in building up one's credibility in the marketplace.
You got to dedicate time and effort in asking for recommendations. It can be from anyone: mentors, bosses, colleagues or even your clients.
It is certainly good to ask one. However, an organic recommendation that is genuinely crafted with cheer is a lot better than generic words from a manager.
It is also good to note that the sum total of your recommendations must cover your listed skills and experiences. Of course, the contents in them should not contradict with what you wrote about yourself.
Never forget to thank your recommenders. In fact, you can go one step further and draft a potential recommendation for them too.
Build Networks Through Groups
Joining groups is an ideal way to build relationships and connections. This is important especially with individuals who do similar things or have the same interest as you. Make sure to join as many relevant groups as you can! Be constantly active on contributing quality conversations. You can start by joining the alumni group from where you went to school. Or maybe, on any related industry lines pertinent to your kind of business or work.
When joining discussions, make your expertise benefit the entire conversation. This will further help strengthen your significance and value as an entrepreneur.
Got something to share that helped you to get a better LinkedIn profile ? Well you can share it in the comment section and let other's too know about it!