Using of internet through handy smartphones have not only gathered a massive user base, but also poured in absolute benefits. In today's era, huge numbers of users are considering shifting to mobile devices, and that's why it has developed in to a necessity to reflect on the mobile audiences.
Though you won't find any shortage of responsive WP themes which are amazing for aiming at the mobile gadgets in a proficient method, but you certainly want to enhance the mobile UX. Then you can surely gather the advantages of some of the credible plugins accessible in WordPress store which can guarantee a superb mobile optimized feel and appearance towards your WP website. We've mentioned here 5 resourceful WP plugins for optimizing your WP website for mobile users and also deliver a stunning UX.
WordPress Mobile Pack
This is a paid WordPress plugin that provides a full command on the mobile version of your website. It is well-suited with numerous mobile platforms and web browsers. It can be easily customized, and you can restore it in an aspired style while utilizing the incorporated tools. WP Mobile Pack plugin provides a Google Analytics support; responsive UI; effectual sync with post, pages and comments; etc. You can effortlessly make money from your mobile presence along with this plugin. Your mobile users can also remain updated when they go offline with your WordPress website's feeds.
[su_quote]Download: WordPress Mobile Pack[/su_quote]
iThemes Mobile
Whether you would like to execute any of the incorporated themes or would like to modify the look of your website as per your desired style, the iThemes Mobile premium plugin lets you to easily integrate a perfect theme that is mobile-friendly in your WP website. It can be customized simply and iThemes Mobile helps you to incorporate distinct themes to aim distinct mobile platforms such as Android, iOS and Windows phone. The features of this plugin include four mobile-friendly themes, custom header uploader, a style manager, etc. While customizing your WordPress website, you can effectively provide to the requirements of your mobile device audiences.    
[su_quote]Download: iThemes Mobile[/su_quote]
WPtouch Mobile Plugin
This free plugin signifies your site content in a better mobile-friendly style along with a mobile-only theme. You can play with the visual look of your website and easily customize it as you desire. It involves surplus features covering language detection, branding colors, and many styling choices. You can simply install this handy plugin and activate on your WP website, thus crafting your mobile-friendly website immediately. When your visitors will visit your mobile website, they can get an opportunity to carry on with their regular theme or twist to mobile-only theme. Though it is accessible for free, but you can still gain its extra offerings by spending on its pro version.
[su_quote]Download: WPtouch Mobile Plugin[/su_quote]
Jetpack by WordPress.com
This plugin possessing a neat and orderly theme guarantees can your mobile users can suitably enter your website. It is a lightweight plugin that can load quickly; thus your viewers won't get upset at all. You can even customize the visual look of your website that depends on your choice and flavor thus executing the advantageous features provides by Jetpack by WordPress.com plugin. You can achieve in crafting menus, custom backgrounds, or header images, and increase the experience of your visitors. Furthermore, the incorporated Akismet anti-spam, Single Sign On, and many more makes sure that your website is always safeguarded from exposures. This is of course paid plugin that is easily available for you.
[su_quote]Download: Jetpack by WordPress.com[/su_quote]
EWWW Image Optimizer
This plugin provides you with excellent features. Loading time towards your website is less and it also utilizes fewer bandwidths. With the use of this plugin, you can simply optimize the site images to fit perfectly to the aimed mobile devices. EWWW Image Optimizer is a free WordPress plugin. This plugin is well-suited with other widespread image gallery plugins. Essentially it compacts every media file and even tracks lossless access, thus you can set out with lossy optimized technique.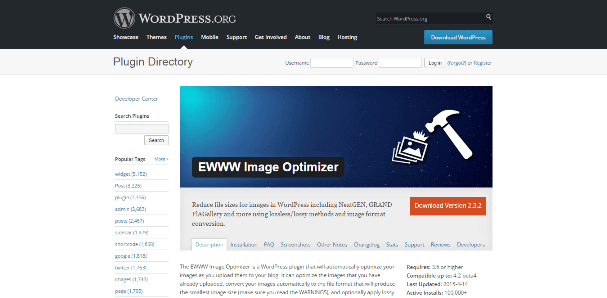 [su_quote]Download: EWWW Image Optimizer[/su_quote]
Hence, the above WordPress plugins are really amazing that can be offered by Digital Marketing Firm who will also support you in optimizing a WP website in order to ensure a noteworthy mobile user experience. You can take the help of this firm and incorporate any one of these plugins and thus increase your business by accomplishing the huge mobile user base.